Auslogics Windows Slimmer is a full-service option to clean up useless data, uninstall software including obsolete Windows versions. The goal here is to slim down non-essential data that is taking up precious space to help improve your machine's performance and speed. Over time your PC accumulates items that are no longer needed (or ever needed) including some non-optimal settings, unused system apps, in the background data transmitting options, etc., these take up space that waste resources and are detrimental to the overall efficiency of your machine.

The importance of cleaning
Even after running regular junk cleanup, your Windows may still have hundreds of unneeded system files, apps and other items that may be weighing down your PC. Things like old System Restore points, Windows Update files, outdated Windows libraries or disabled system components may take up a ton of disk space and reduce performance. Run a checkup with Auslogics Windows Slimmer and give your operating system a proper deep cleanup.

Safe and simple
Windows Slimmer gives you an easy way to remove unneeded Windows components, uninstall apps and tweak settings to make your operating system's footprint on your drive smaller, to reduce the amount of memory and CPU power it uses and to protect your privacy by preventing unnecessary data transmission.



Windows 7, 8/8.1, 10


i. Unzip The Archive
ii. Read "Read" for installation instructions.
iii. Enjoy..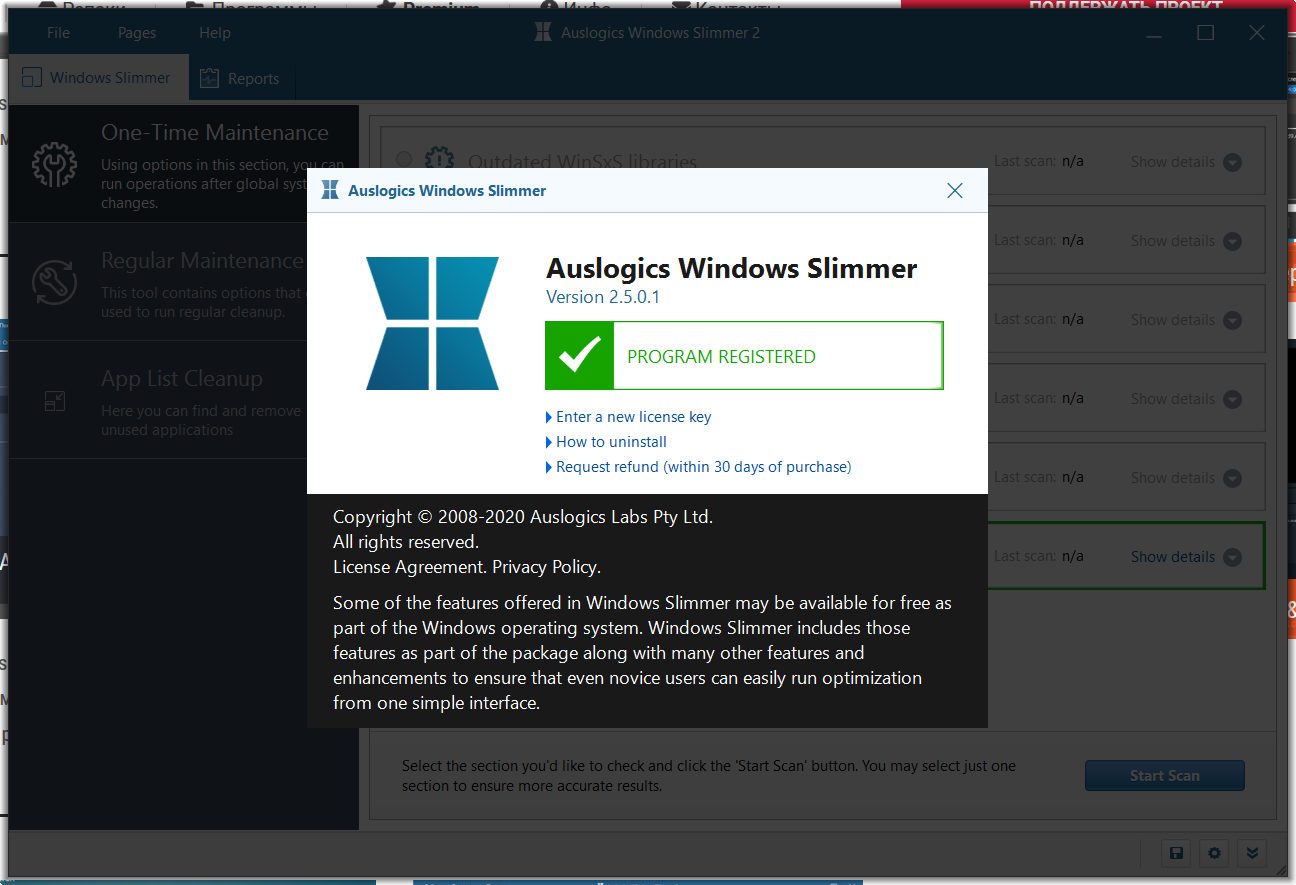 Auslogics Windows Slimmer 2.5.0.1.exe : 8 / 72
MD5 627017a29e4af3f8ddd7610b13eaf74c
SHA-1 cb1e009998eeb50440540372d372e2d66009ef9b
SHA-256 171cac0cb0b3ff3d4bc4bfedecfa1012fcbb70591b9c458ee41efeaddf4b1473


File Type: rar
File Size: 13.4 mb
Activation: Pre-Activated | Repack
Silent Instalers: Yes
Credits: Elchupacabra
Use Downloader Multi Speed with IDM or Utorrent
Extract the zip file using WinRAR or WinZip or by default Windows command.,
Download in Here
Ultra ISO [Mount/Burn] + Rufus [Bootable]



If file has been deleted or removed,
Please let me know, I Resolved and works properly
Do not forget to share like and support always !!!
Enjoy and Support Developers, Buy It, They Deserved It!
Please chat Me on WhatApps Beside
Have a Request For Software
or Have a Problem?
If Required, Password: 123