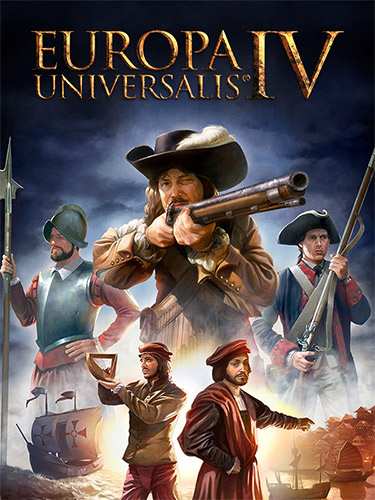 Europa Universalis IV
v1.34.2.0 Sweden (5955) + All DLCs + Bonus OSTs[/b]
Release Date: August 13, 2013
Genres/Tags: Strategy, Grand strategy, Top-down, 3D, Real-time
Developer: Paradox Development Studio
Publisher: Paradox Interactive
Platform: PC [Repack]
Engine: Clausewitz Engine
Steam User Rating: 86% of user reviews are positive (based on 74,912 reviews)
Interface Language: English, German, Spanish, French
Audio Language: none
Crack: built-in (CODEX)
Minimum requirements:
Operating System: Windows® 7 64 bit
Processor: Intel® Core 2 or equivalent
RAM: 4 GB
Video Card: NVIDIA® GeForce 8800 or ATI Radeon® X1900, 512mb video memory required
DirectX: 9.0c
HDD Space: 5.6 GB
Screenshots – click to enlarge If you don't see screens – disable your adblock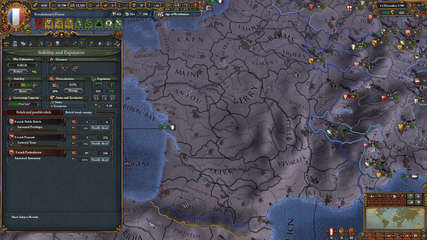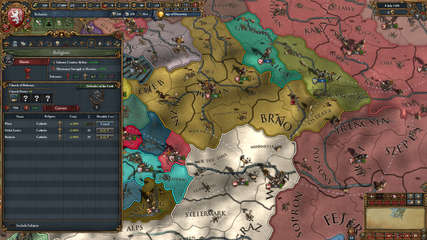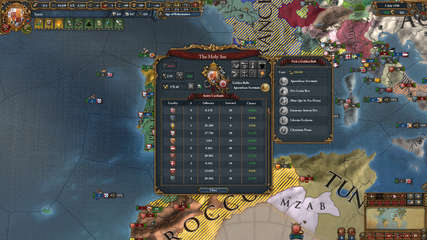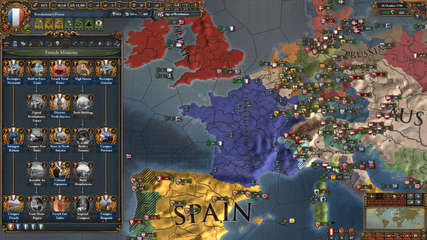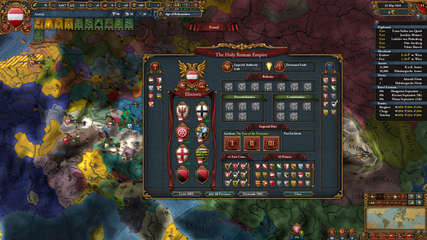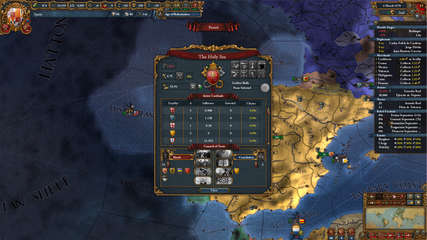 Description:
Fulfill your quest for Global Domination!
Paradox Development Studio is back with the fourth installment of the award-winning Europa Universalis series. This classic grand strategy game gives you control of a nation through four dramatic centuries. Rule your land and dominate the world with unparalleled freedom, depth and historical accuracy. Write a new history of the world and build an empire for the ages.
From grand voyages of discovery to religious wars to revolutionary governments, the entire history of the early modern world waits for you to rewrite it in Europa Universalis IV.
Lions of the North DLC:
Europa Universalis IV: Lions of the North adds new mission trees and historical options for a number of Baltic Sea nations. Many of these options include new "branching missions" which allow greater variety and replayability as you explore different alternate histories through the decisions you make.
Lions of the North DLC includes the following new features:
Expanded Branching Missions: Decisions taken along some mission trees will determine what options are available to you in the future, allowing you to follow distinct and dramatically different alternate paths.
New Mission Trees for Denmark: Maintain power in Scandinavia while expanding your influence over the northern German cities.
New Mission Trees for Sweden and Norway: Break free from Danish dominance, and turn a foothold on the continent into the base for a northern empire.
New Mission Trees for Teutonic Order, Livonian Order and Riga: Follow a path of religious zealotry or secularize your realm with an eye on the future.
New Mission Trees for Poland, Lithuania and the Commonwealth: Vast lands on the border of East and West present unique challenges for ambitious rulers.
Other Mission Tree Changes: Pirate kings of Gotland, unique options for a united Scandinavia, a free Finland, and a powerful Danzig.
New Government Reforms and Estate Privileges: Some regional powers will have unique government options and new ways to court the favor and influence of local estates.
New Units: The Swedish Carolean Infantry and Polish-Lithuanian Winged Hussars will be available for recruitment.
New Unit Art: 35 new army sprites for regional powers.
New Music: 3 new pieces of Scandinavian music, plus 3 other Baltic themed songs.
Game Features
Deep Historical Setting: tart before the Renaissance on a map of the world as it was then. Choose from any of hundreds of nations and then rule up to the Age of Revolutions. Or, if you wish, start your game at any date in the span, with historical monarchs and other leaders.
Experience History Coming To Life: Hundreds of dynamic historical events are yours to experience, from merely troubling civil wars to world changing moments like the Protestant Reformation. Discover and settle the New World, or resist European conquest.
Fill Your Pockets: Control the flow of trade by developing your trade power in key provinces, using ships and governmental policy to bring the wealth of the world to your own ports.
War & Peace: Build alliances into iron bonds, cemented by royal marriage or play a flexible hand, keeping your options open. Strike when your enemies are weak, using your armies to grab new land and new potential riches.
Good Rulers Mean Good Times: Your nation's pace of development will be heavily influenced by the person on the throne. Experience rapid development under a skilled monarch only to see things slow down when a less competent heir takes over. Plan for the future by spending monarch power wisely.
Scientific Revolution: Four hundred years of research into new ways of war, administration and trade are available. Unlock new weapons, new buildings and new ship types. Over time, you can embrace national ideas that represent both your historic legacy and your ambitions for the future.
Included DLCs
100 Years War Unit Pack
American Dream DLC
Anthology of Alternate History
Art of War
Art of War Ebook
Call-to-Arms Pack
Catholic League Unit Pack
Catholic Majors Unit Pack
Colonial British and French Unit Pack
Common Sense
Common Sense Content Pack
Common Sense E-Book
Conquest of Constantinople Music Pack
Conquest of Paradise
Conquistadors Unit pack
Cradle of Civilization
Cradle of Civilization Content Pack
Dharma
Dharma Content Pack
Digital Extreme Edition Upgrade Pack
Early Upgrade Pack
El Dorado
El Dorado Content Pack
Emperor
Emperor Content Pack
Evangelical Majors Unit Pack
Evangelical Union Unit Pack
Fredman's Epistles
Fredman's Midsummer Epistles
Golden Century
Guns, Drums and Steel Music Pack
Guns, Drums and Steel Vol 3
Guns, Drums and Steel Volume 2
Horsemen of the Crescent Unit Pack
Immersion Pack – Europa Universalis IV: Lions of the North
Imperator Unit Pack
Indian Ships Unit Pack
Indian Subcontinent Unit Pack
Kairis Soundtrack Part II
Leviathan
Mandate of Heaven
Mandate of Heaven Content Pack
Mare Nostrum
Mare Nostrum Content Pack
Monuments to Power Pack
Muslim Advisor Portraits
Muslim Ships Unit Pack
National Monuments
National Monuments II
Native Americans II Unit Pack
Native Americans Unit Pack
Origins
Pre-Order Pack
Purple Phoenix
Republican Music Pack
Res Publica
Rights of Man
Rights of Man Content Pack
Rule Britannia
Sabaton Soundtrack
Songs of Regency
Songs of the New World
Songs of War Music Pack
Songs of Yuletide
Sounds from the community – Kairis Soundtrack
Star and Crescent DLC
The Cossacks
The Cossacks Content Pack
The Rus Awakening
Third Rome
Trade Nations Unit Pack
Ultimate E-book Pack
Ultimate Music Pack
Ultimate Unit Pack
Wealth of Nations
Wealth of Nations E-book
Winged Hussars Unit Pack
Women in History
Repack Features
Based on Steam BuildID 9468722 release with all DLCs: 5.6 GB, thanks to Christprotector!
CODEX crack/emu applied over, thanks to Codexuser!
Game version is v1.34.2.0 Sweden (5955); All 78 released DLCs and bonus soundtracks are included
100% Lossless & MD5 Perfect: all files are identical to originals after installation
NOTHING ripped, NOTHING re-encoded
Smaller archive size (compressed from 5.6 to 2.4 GB)
Installation takes 4-8 minutes (depending on your system)
After-install integrity check so you could make sure that everything installed properly
HDD space after installation: 5.6 GB
Use "Edit game language.bat" in game root to open "settings.txt" for editing of the game language
Repack uses XTool library by Razor12911
If you want to run the game via Paradox Launcher, install it during repack installation, then copy "launcher-settings.json.for_launcher" to "launcher-settings.json" and run the game via "dowser.exe"
At least 2 GB of free RAM (inc. virtual) required for installing this repack
Repack by FitGirl
Direct Download | Uploadever. in
Direct Download | Uploadev. Org
Direct Download | Upload-4ever. Com
If Required, Password: 123