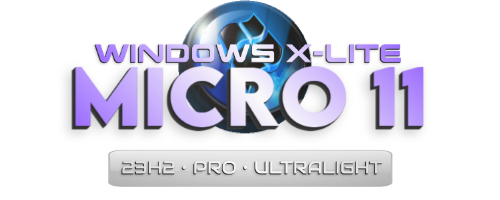 DESIGNED TO BREATHE NEW LIFE INTO YOUR PC!
Windows 11 23H2 Pro (OS Build 22631.2428) x64 By @FBConan
• Metered connection is enabled by default in this build. I highly
recommend leaving it enabled. This means Windows will not automatically
download drivers for your PC, so I recommend downloading drivers directly
from the MFG for your PC instead!

• Windows Update Service and Windows Firewall are also disabled by default,
but can be easily enabled through the Start Menu – X-Lite Tools Folder.
You'll need to enable the Windows Update Service to use the Microsoft
Store, and to install additional Language Packs.

WHAT'S HOT!?
• 1.5GB ISO!
• 3GB Installed Size!
• Virtual Memory enabled by default!
• Includes Optional System Transparency!
• Integrated Intel RST Drivers into Windows Setup!
• Offers Enhanced Performance, Privacy and Control!
• Full Support for UWP Apps, Xbox, MS Store and much more!
• Updated Framework, Runtime Libraries, and Desktop App Installer!
• Includes Custom Themes, Wallpaper, and Much More!
• Additional Improvements and Optimizations!
• No Pre-installed UWP Apps!

• Full Support for Legacy PC's
• Full Support for Desktops, Laptops, and Tablet PC's
• Full Support for Additional Language Packs

💥 Designed to work on All PC's. Old or new, weak or strong, Desktop or Laptop.

➡️ Bypasses TPM, Secure Boot, RAM, CPU, and Storage Checks!
➡️ Bypasses Microsoft's Forced Account Creation during Setup / Installation!
​
---


– Removed Features –
Cortana, Smart Screen, Edge, UWP Apps, BitLocker, Hyper-V,
WSL2, One Drive, Smart Card, Windows Defender, Windows Mail,
Backup and Restore, Telemetry, Diagnostics, Troubleshooting,
Maps, Optional Feature Support (WSL2, Hyper-V, Sandbox, etc.),
Update Support, Component Store, Speech, Voice Activation, Some Fonts.
– Disabled Features –
Error Reporting, Indexing, UAC, Ads, Telemetry,
Hibernation, Power Throttling, Automatic Maintenance.

– Enabled Features –
DirectPlay, .NET Framework 3.5, SMB1

– Performance Prioritized –
This build has been designed to Maximize Performance,
Responsiveness, and Resource Savings.




• Use Rufus to write the ISO to a USB Drive.
• Boot from USB Drive, and Perform a Clean Installation to your desired partition.
• Requires 2GB RAM, and 7 GB Storage Space.
• Your PC Will Restart Once After Install.



• I highly recommend you download and install DX9 and VC++ Runtimes, you can download them HERE
• For AMD Ryzen Powered PC's 💻, please download the latest Chipset Drivers found at the bottom of my thread HERE
• If you have any issues Installing this Build on your PC, Please Read Part 6 of my Tutorial to fix those issues HERE
• If you are missing font characters, download and install all the fonts available in this package HERE


---
• This Release also includes Optional File Explorer Gallery, Copilot, and Windows Settings Home Page!
• To enable or disable any of these features, download the enabler packages below!
• If you want to add the Microsoft Store, or other basic Windows Apps to
this release, I've included downloadable installers below as well:

➡️Gallery Enabler Download Link
➡️Copilot Enabler Download Link
➡️Home Page Enabler Download Link
➡️Microsoft Store Installer Download Link
➡️Windows 7 Game Suite Download Link
➡️Snipping Tool Download Link
➡️Calculator Download Link
➡️Notepad Download Link
➡️Camera Download Link
➡️Paint Download Link
➡️Rufus Download Link
FBConan's Windows X-Lite 'Micro 11 23H2' [TeamOS Edition] R3.7z
Direct Download 1 …..Direct Download 2
If Required, Password: 123