Info:
Version: 20.6
The size: 22.20 GB
Medicine: Not Required
Interface: MULTi
A collection of drivers for all 32-bit and 64-bit Windows operating systems, ranging from Windows 2000 to Windows 10, including server platforms. As shell installers, to automatically detect your equipment and automatically install the necessary drivers, specialized utilities used: DriverPack Solution 16.20 Plus / Drivers Installer Assistant 8.02.20 / Snappy Driver Installer 1.20.0 / DriverPack 10/17/14 / shell for backup drivers Drivers Backup Solution 3.90.21. The latest drivers are included in the collection, as of the release date, personally collected by SamLab. Do not confuse this package with the driver packs from Bashrat'a – these drivers are newer and more stable.
Key features of the collection:
• Support for 32/64-bit operating systems Windows XP / Vista / 7/8 / 8.1 / 10
• The maximum set of drivers for PCs and laptops on one disk
• One-touch automatic installation of drivers and programs
• Express diagnostics of the equipment of your computer / laptop
• Backing up drivers installed in the system
• Friendly and responsive multilingual interface
• Ability to run the program from any medium
The driver packs included in the collection:
DP_Biometric_20062.7z
DP_Bluetooth_20061.7z
DP_CardReader_20064.7z
DP_Chipset_20064.7z
DP_LAN_Intel_20063.7z
DP_LAN_Others_20063.7z
DP_LAN_Realtek-NT_20055.7z
DP_LAN_Realtek-XP_20020.7z
DP_MassStorage_20064.7z
DP_Misc_20064.7z
DP_Modem_20020.7z
DP_Monitor_20063.7z
DP_Printer_20055.7z
DP_Sound_CMedia_20051.7z
DP_Sound_Conexant_20064.7z
DP_Sound_Creative_20054.7z
DP_Sound_IDT_20020.7z
DP_Sound_Intel_20064.7z
DP_Sound_Others_20062.7z
DP_Sound_VIA_20020.7z
DP_Sounds_HDMI_20063.7z
DP_Sounds_Realtek_20062.7z
DP_Telephone_20063.7z
DP_Touchpad_Alps_20044.7z
DP_Touchpad_Cypress_20020.7z
DP_Touchpad_Elan_20062.7z
DP_Touchpad_Others_20020.7z
DP_Touchpad_Synaptics_20063.7z
DP_TV_Aver_20020.7z
DP_TV_Beholder_20020.7z
DP_TV_DVB_20064.7z
DP_TV_Others_20064.7z
DP_Vendor_20063.7z
DP_Video_Intel-NT_20064.7z
DP_Video_Intel-XP_20020.7z
DP_Video_nVIDIA-NT_20063.7z
DP_Video_nVIDIA-XP_20020.7z
DP_Video_nVIDIA_Legacy-NT_20020.7z
DP_Video_nVIDIA_Server_20064.7z
DP_Videos_AMD-NT_20064.7z
DP_Videos_AMD-XP_20020.7z
DP_Videos_AMD_Legacy-NT_20020.7z
DP_Videos_AMD_Server_20064.7z
DP_Videos_Others_20045.7z
DP_WebCam_20064.7z
DP_WLAN-WiFi_20064.7z
DP_WWAN-4G_20064.7z
DP_xUSB_20020.7z
DP_zAndroid_20020.7z
DP_zUSB3_20063.7z
DP_zVirtual_20054.7z
Included in the program:
System
==========
DirectX +
CoDeC Pack +
AOMEI Backupper +
Flash player +
Shockwave Player –
Runtimepack
Windows Libraries +
Microsoft Visual C ++
.Net Framework –
Silverlight –
Java Runtime –
Browsers
========
SlimJet (Chrome) +
Opera +
Mozilla Firefox +
File
========
7-Zip –
CDBurnerXP –
Winrar +
Viewers
=============
Foxit PDF Reader +
FastStone Image Viewer +
Players
======
AIMP +
PotPlayer +
Communication
=======
QIP –
Skype +
the Internet
========
TeamViewer –
uTorrent +
Antiviruses
===========
360 Total Security –
Tencent PC Manager –
Miscellaneous
======
Classic Shell –
Punto Switcher –
Checksums:
CRC32: AB1F1492
MD5: CBCC873104A8402B52D84BCB26A0F3EE
SHA-1: 612B949DA384C2D1D786D122D971A00268D74051
Screen (old screen of my computer):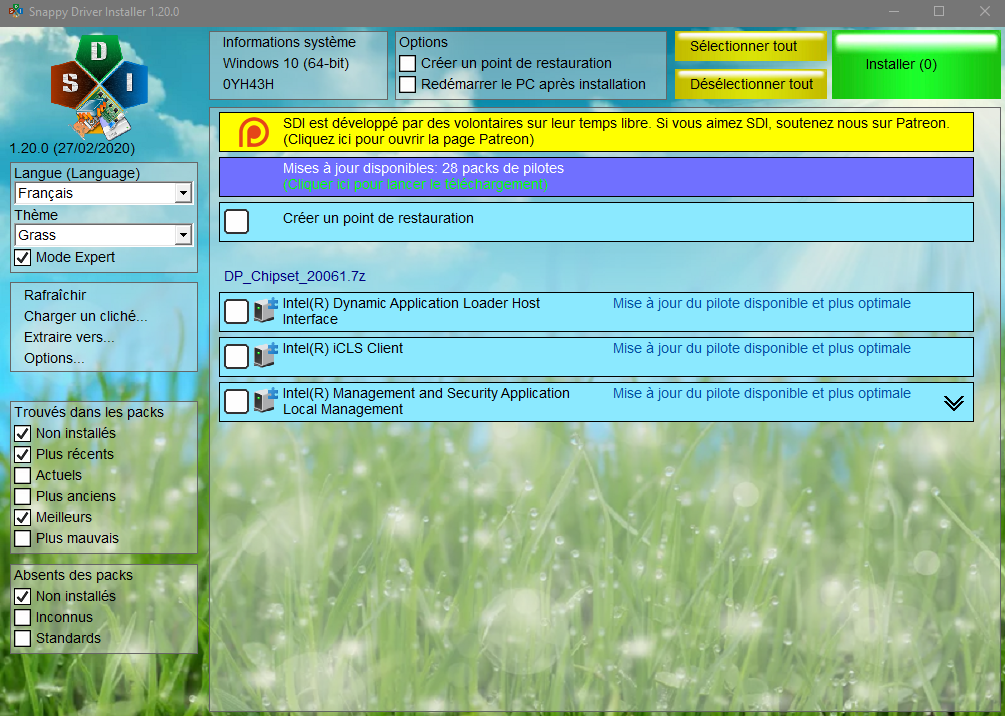 Use Downloader Multi Speed with IDM or Utorrent
Internet Download Manager.Utorrent File Downloader
Extract the zip file using WinRAR or WinZip or by default Windows command.,
Download in Here
Winrar x64.Winrar x86.Keygen for Activation.Portable.Repack.For MacOs
If file has been deleted or removed,
Please let me know, I Resolved and works properly
Do not forget to share like and support always !!!
Enjoy and Support Developers, Buy It, They Deserved It!
Please chat Me on WhatApps Beside
Have a Request For Software
or Have a Problem?
If Required, Password: 123