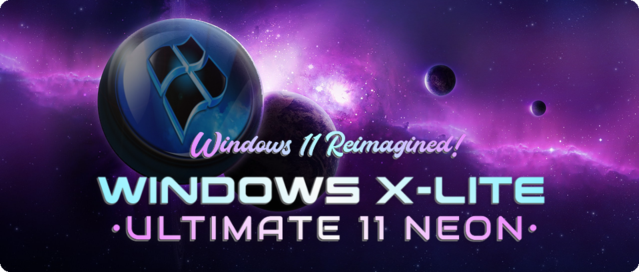 DESIGNED TO BREATHE NEW LIFE INTO YOUR PC
Windows 11 22H2 Pro (OS Build 22621.1778) AMD64 By @FBConan

• 2.6GB ISO!
• 4GB Installed Size!*
• Full Featured, Updatable Build!
• Virtual Memory Enabled by Default!
• Improved Stability and Performance!
• Automatic Updates Paused Until 3000!
• Include Customized Neon Themed Dock!
• Includes Optional System Transparency!
• Restored the Classic Calculator and Notepad!
• Extreme Performance for your Apps and Games!
• Full Support for UWP Apps, Xbox, MS Store and much more!
• Full Support for Additional Language Packs, Speech, Voice, etc.!
• Includes Custom Cursors, Themes, Wallpapers, and MUCH MORE!
• Updated Framework, Runtime Libraries, and Desktop App Installer!
• Enabled Rounded Corners, Acrylic, and Mica by default! (Even installed in a VM!)
• No Pre-installed UWP Apps!
• MS Store Installer Included!
*4GB Installed size after disabling paging file
💥 Designed to work with all Apps and Games,
on All PC's. Old or new, weak or strong, Desktop or Laptop.

➡️ Bypasses TPM, Secure Boot, RAM, CPU, and Storage Checks!
➡️ Bypasses Microsoft's Forced Account Creation during Setup / Installation!

– Multi Build ISO With Selective Windows Defender During Setup! –
​
---


– Removed Features –
Cortana, Smart Screen, Edge, UWP Apps.

– Disabled Features –
Defender (Optional), Widgets, Error Reporting, Indexing, BitLocker, UAC, Ads,
Telemetry, Hibernation, Power Throttling, Automatic Maintenance.

– Performance Prioritized –
This build has been designed to Maximize Performance, Responsiveness, and Resource Savings.



• Use the included Rufus Tool ONLY to write the ISO to a USB Drive.
• Boot from USB Drive, and Perform a Clean Installation to your desired partition.
• Requires 2GB RAM, and 8 GB Storage Space.
• Your PC Will Restart Once After Install.



• I highly recommend you download and install DX9 and VC++ Runtimes, you can download them HERE
• For AMD Ryzen Powered PC's 💻, please download the latest Chipset Drivers found at the bottom of my thread HERE
• If you have any issues Installing this Build on your PC, Please Read Part 6 of my Tutorial to fix those issues HERE


---
🌚 You can Activate this build with your personal license, or with my recommended Activator found HERE!
🌚 If you want to add WSA with Play Store to this build, download and install the package found HERE!
Download Link 1 …..Download Link 2…..Download Torrent
If Required, Password: 123